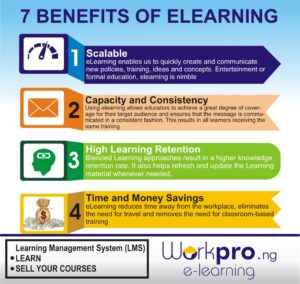 Workpro.ng launches eLearning courses that can be accessed easily on the company's expanding online learning platform.
Workpro.ng Announces the Launch of eLearning Courses
Lagos, Nigeria — April 21st, 2023— Workpro.ng the global leader in eLearning solutions, announces the launch of its new initiative— eLearning Courses—for organizations and individuals who believe in a culture of continuous learning. Courses are also available in local languages like Hausa, Yoruba, Igbo and Pidgin English.
The growing need for manpower development and present economic situation, has made it very challenging for organizations to continue their traditional training initiatives. Many organizations are considering other options to train their remote workforce. While virtual training is a viable option, off-the-shelf online courses ready for delivery suddenly seem very inviting.
To help keep the training plans of organizations alive, Workpro.ng is making available catalog eLearning courses for on-demand access through the company's Learning Management System (LMS) covering; Occupational Safety and Health, Project Management, HR, Finance, Local Content, Mining, Agriculture, ICT, Contracts and Bidding, Supply Chain, Travels and Hospitality etc.
These off-the-shelf eLearning courses from Workpro.ng are easy on the pocket, available for easy deployment, and can meet employee learning needs effectively. They are instructionally strong, making them ideal for rapid self-paced learning.
The training cost are very affordable, and corporates with high number of trainees can enjoy further discounts. Get to explore the range of catalog courses on offer.
The courses have proven to be useful resources for every working professional, while some are more industry-specific. Workpro.ng aims to offer the right balance of courses for professionals as well as organizational training with its expanding collection of online courses.
Speaking of the eLearning courses, Shadrack Abu, Business Manager, and Joe Oduah CEO of Konectcom Technologies West Africa Ltd (Owners of Workpro.ng platform), said, "We've already established ourselves as a leader in rapid eLearning solutions and with the launch of eLearning courses, we are offering quick and easy rapid training solutions without organizations or individuals having to incur the additional cost of investing in an LMS. And for organizations who would like to host courses on their own LMS and are looking to train multiple learners, we are offering these catalog courses at very attractive prices."
About Workpro.ng
Nigeria's top Online Learning platform for professionals.  A learning management system which simplifies elearning, testing and distribution. Workpro is designed to serve companies, save time and money in deploying elearning courses.
We offer 24/7 customer support and our system is always online. Workpro is user friendly with courses developed to meet industry standards. Course presentation, completion time, quizzes and certification are quickly developed using intuitive Workpro templates.
For students, learning is easy. Workpro courses are conveniently available 24/7. With Workpro, students can take quizzes, view grades and easily manage their career paths.
Enterprise accounts can easily set up multiple Workpro instances for departments, or divisions. Workpro also allows you to sell your courses with our easy e-commerce libraries.
Register now and receive all these extra goodies.  
Log on to workpro.ng
With its formidable authoring tool expertise and experience in corporate training and Instructional Design, Workpro.ng offers rapid eLearning solutions to keep you and your employee operational.